The fastest way to grow your business with the leader in HVAC Website Design Web marketing services that generate leads for HVAC companies
HVAC Website Design
Are you a HVAC business owner that's frustrated with the lack of results and service from your current website design marketing company? At HVAC Web Works we've taken the tools typically used by large businesses in their Internet advertising efforts and made them available to business owners just like you. HVAC Web Works has helped many contractors grow their business with our professional HVAC website design marketing services for heating and cooling companies. Our HVAC web design company offers a full suite of services designed to make our clients successful at generating leads. Through coordinated marketing campaigns we integrate search engine optimization and pay per click advertising campaigns to help our clients generate leads in their local area. Our team of web designers are rockstars at building awesome, mobile friendly HVAC websites. We specialize in creating HVAC websites that are proven to increase customer engagement and acquisition rates. We are focused on creative and results-driven lead solutions for HVAC companies. If you own a HVAC business and you're looking for someone to take your online marketing to the next level, you've come to the right place. Contact us today!
HVAC Website Design
HVAC Web Works website designers specialize in custom heating and cooling HVAC websites. We understand how important a professional looking website is for the growth of heating and cooling companies. Your website often shapes the first impression of a visitor. It needs to convert that visitor to a customer, and conversion percentages are better with a well designed site. If you're truly looking to propel your business to the next level, we offer web design services for your HVAC company.
Search Engine Optimization
We provide complete Internet marketing services and search engine optimization. If you are a business owner with no Internet visibility or search engine presence, you are rapidly losing business to your competitors. Your potential customers are using the Internet to search for your heating and cooling services. They're either going to find you or your top competitors online. If you would like to see your HVAC website ranked on the first page of Google contact us for a free quote.
Pay Per Click Advertising
Pay per click advertising is an important marketing tool for a HVAC business because it can propel your website like no other advertising method. Furthermore, its effectiveness can be measured with pinpoint precision. And the best part, you only pay when someone searching for your product or service views your website. HVAC Web Works services our clients marketing needs by leveraging keywords, compelling ad copy and targeted delivery of ads to your geographic area.
Our Mobile Friendly Sites Generate Phone Calls
Responsive designed sites look great on phones and make it easy to use!
The days of your website being viewed solely on a desktop computer are over. Mobile devices are now the largest source of traffic and your website needs responsive design to look good on all devices and screen sizes. Our mobile friendly responsive website design adapts to the device of each visitor, whether desktop, smartphone, or tablet. A responsive website dynamically re-sizes its content for different screen sizes to ensure the website looks great on any device and makes it easy to use.
Google Prefers Responsive Websites: Search engines give preference in rankings for websites that are responsive especially on mobile devices when users browse the web looking for your business.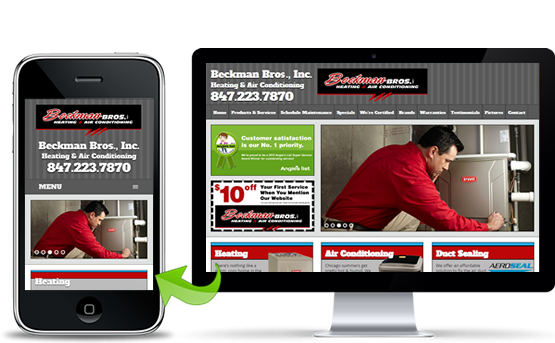 0
Packages include website changes